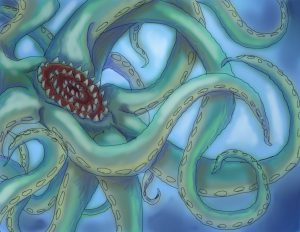 Name: Wriggly
Faction: Monsters
Power: 2
Equivalent Chess Piece: Knight
Existence in Current Reality: Mythical
Greatest Attribute: Sense of Humor
Greatest Fear: Being alone
Weapon of Choice: Vats of Slime
Power: 5
Effect: While it is a unique pleasure to watch Wriggly use her under-valued intelligence to operate complex machinery like A Dirigible or the Multi-function Torture Table, Wriggly is most at home with massive amounts of slime. It would appear she uses the slime as both a lubricant and a condiment simultaneously, which while disturbing on certain levels, is still akin to watching Michelangelo work with stone or Vince Lombardi work with footballs. At its core, it's art.
Disposition: Descended from a long and distinguished line of tentacle monsters, Wriggly is really rather sweet natured. When she grabs a hold of a person and inserts them into her gaping maw, or when she penetrates someone's armor with one of her seemingly endless, steel like appendages, she's just funnin'.  That few of her play things survive their encounters with her is mostly evidence of her boundless enthusiasm rather than true
malice in her hearts –she has seven of them after all.
OverNote: Wriggly is bigger than she should be. But the necessary balance is still preserved, so only the most observant of Bosses will take note.