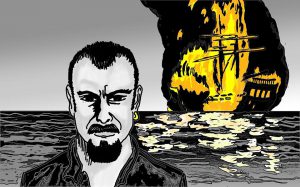 Name: Captain Flint A.K.A. James Flint A.K.A. Joseph Flint
Faction: Pirates
Power: 7
Equivalent Chess Piece: Queen
Existence in Current Reality: Fictional
Greatest Attribute: Intestinal Fortitude
Greatest Fear: Poverty
Weapon of Choice: 36 Smoothbore Cannons and Some Grapeshot
Power: 5
Effect: Grapeshot was made of a mild steel canister filled with hardened ball bearings and bits of shrapnel. When shot out of a cannon the canister would break apart and the ball bearings would achieve velocity sufficient to penetrate human flesh over three hundred yards away. Lining up 18 cannon (the other half were on the other side of the ship) and firing a broadside into a gaggle of densely packed soldiers waiting on an enemy deck for a boarding action was an effective way to reduce resistance to a young pirates' demands.
Disposition: Making his first appearance in Robert Louis Stevenson's adventure novel Treasure Island in 1881*, Flint is the notorious captain of the pirate ship, The Walrus. Flint raped, pillaged, and plundered his way to an enormous treasure of gold and silver. Flint and six of his trusted advisers then buried the treasure on a secret island for future use. To make sure his treasure stayed safe, Flint murdered all the men who knew where the treasure was buried. He then made a map which he entrusted to his first mate Billy Bones. To see how that turned out, read Treasure Island. Flint has appeared in several other novels, films, and television shows. Always the hard-nosed, ruthless, and capable sailor, Flint is the only person strong enough to be made the Pirate King.
*This is Standard Earth Years.
OverNote: The only man Captain Flint has ever been afraid of was his quarter master, Long John Silver, who named his faithful parrot Flint out of 'respect' for his captain.
Should you take command of the Pirate Faction, you'll command both Flint and Silver.